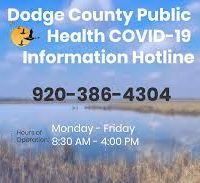 The Dodge County Public Health Department is partnering with the Wisconsin National Guard to offer free drive-thru COVID-19 testing on Tuesday, September 29 and Wednesday, September 30.
The test site will be located at the Reeseville Highway Shop at 404 N. Main Street.
Hours of operation will be 10:00 a.m. – 6:00 p.m. both days.
More details can be found below.