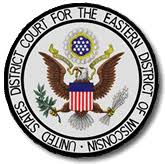 Four Fond du Lac men are accused of recruiting a heroin user to buy guns.
The United States Attorney's Office of the Eastern District of Wisconsin says the men; Jonathan Griffin, 28; Jason Spinks, 37; Shakie Davis; 25; and Treon Dennis, 36, are charged with conspiracy to make a false statement to a licensed firearms dealer and possession of firearms by felons.
The case was investigated by the U.S. Bureau of Alcohol, Tobacco, Firearms and Explosives and Fond du Lac Police.
The four defendants were dealing heroin in the Fond du Lac area and used their network to recruit a customer to buy 11 firearms for them, according to the indictment.
Three of the 11 guns were found at crime scenes in the Chicago area shortly after purchase.
The maximum penalty is up to 10 years in prison and a $250,000 fine.