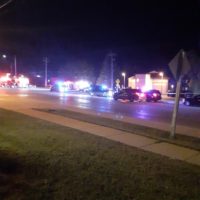 UPDATE @ 9:16 p.m.
The Great 98 has confirmed that three victims were shot inside of a an apartment at 1118 Horicon Street in Mayville on Wednesday night.
The shooter turned the gun on himself after shooting three others, according to Mayville Mayor Rob Boelk.
That person was taken to a nearby hospital in critical condition.
At least three helicopters were called to the scene. Highway 28 was shut down from Clark Street to Highway TW as the helicopters landed to take victims to the hospital.
Mayor Boelk said that as of 9:16 p.m., the situation was no longer active and there was no threat to the public.
https://www.facebook.com/DodgeCountySheriff/posts/1506861406168872
ORIGINAL STORY
Multiple people were shot in an incident in Mayville on Wednesday, September 16, 2020.
At least four people were shot inside of a residence on Horicon Street on Wednesday night, Mayville Mayor Rob Boelk has confirmed to The Great 98.
No further details about the incident were confirmed.
Boelk tells The Great 98 that a statement will be released either late Wednesday night or early Thursday morning.
Highway 28 has been shut down in both directions from Clark Street to Highway TW.
Multiple helicopters have been requested to land at the scene, including MedFlight and Flight for Life.
As of 8:30 p.m. the Dodge County Sheriff's Office had not responded to request for comment on the incident.
Scanner traffic indicated that a third helicopter was landing to take a patient around 8:30 p.m. Wednesday.
The photos below were taken at Horicon Street near the intersection with Clark Street by Ken Neumann of Mayville.