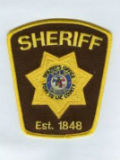 A 32-year-old Milwaukee woman is facing serious charges after allegedly accidentally shooting herself with an illegal firearm in Fond du Lac County on Monday.
Deputies and other first responders were called to the scene outside the Fondy Sports Aqua Park around 12:23 p.m. Monday, July 6, 2020 for a report of a woman who had shot herself in the leg.
An initial investigation shows the woman's gun was in her purse when it got wet, so she went to the vehicle to dry it off.
While she was drying the firearm, it discharged and she was shot in the leg.
The woman was not in legal possession of the gun, and charges of recklessly endangering safety and carrying a concealed weapon are now being forwarded to the Fond du Lac County District Attorney.