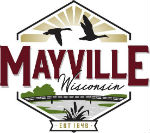 The Mayville Common Council has approved a revolving loan fund designed to help small businesses which have been particularly hard-hit during the coronavirus pandemic.
Mayville businesses with less than 30 employees can begin applying for the loans Monday, May 18, 2020.
The loans of up to $8,000 will be paid back at a rate of two-percent over a five-year period.
We'll have Mayville Mayor Rob Boelk on The Meg and Crowe Morning Show on Thursday, May 14, 2020 to discuss the program and what it means to residents in Mayville.
The link to that interview will be posted online shortly after it airs on 98.7 FM.