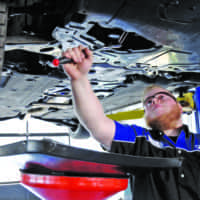 Holiday Mazda—in partnership with Mazda North American Operations, is offering essential healthcare workers a free oil change and vehicle cleaning; even if their vehicle isn't a Mazda.
The Essential Car Care Program was created as a way to help out and recognize America's healthcare heroes while they serve their communities amidst the Coronavirus pandemic.
The program period is slated to run through May 4, 2020.
Through this collaborative endeavor between MNAO and dealer partners such as Holiday Mazda, over five million dollars of professional service work is expected to be delivered at no-charge to eligible healthcare workers.
"This is a reflection of the mutual respect we share with Mazda toward our community at large and in this case, our local healthcare workers," Holiday Automotive president Thor Gilbertson said.
Eligibility for the program is simple and relies on a current employee ID badge or pay stub for verification.
"A few exclusions exist, like collector cars or vehicles requiring more than 8 quarts of oil, but the majority of healthcare workers should qualify for these services. To check your eligibility and learn more, visit holidaymazda.com/hereforhealthcare" added Gilbertson.
Holiday says its operations have instituted stringent measures like a contact free drop-off process, heightened onsite infection control and vehicle sanitization routines.
Courtesy services such as free home vehicle pick-up and delivery, or alternate transportation options also exist for its customers.
In another show of support, Holiday Automotive has donated 55 gallons of much-needed hand-sanitizer to Agnesian Healthcare.
"Getting extra hand sanitizer to the  hospital and helping out area healthcare workers with a vehicle cleaning and oil change are a couple of the ways we're trying to do our part. In turn, our team and shop remain active by fulfilling this and other essential services, to keep us all moving forward, together," Gilbertson said.