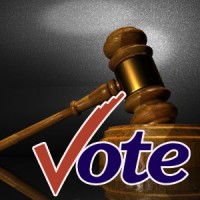 Despite a state-wide safer at home order currently in place, Wisconsin's spring primary election is still on for Tuesday, April 7, 2020, after both the Wisconsin Supreme Court and U.S. Supreme Court overturned adjustments that had been made.
Governor Tony Evers on Monday, April 6, 2020, tried postponing the election until June 9, 2020, a move that was struck down by the state supreme court in a 4-2 ruling issued hours later.
The U.S. Supreme Court also issued a ruling on Monday deciding that absentee ballots could not be turned in after April 7, overturning a federal judge's ruling that gave voters until April 13 to get those ballots in.
That means that if you requested an absentee ballot and have not received it by Tuesday, April 7, 2020, you will need to head to the polls in person if you want to vote.
Absentee ballots may not be postmarked any later than April 7, 2020.
For more information from the Wisconsin Election's Commission, click here: https://elections.wi.gov/?fbclid=IwAR1ph7xRfF4buuBM8LVZZEyhAQO8k-d6QRZLySA1BP8Cq0yCNCyIQ-6djz8
Governor Tony Evers released a statement after the ruling, saying, "There are few things we hold more sacred and that are more American than the right to vote. People have bled, fought, and died for the right to vote in this country. But tomorrow in Wisconsin, thousands will wake up and have to choose between exercising their right to vote and staying healthy and safe. In this time of historic crisis, it is a shame that two branches of government in this state chose to pass the buck instead of taking responsibility for the health and safety of the people we were elected to serve."
There are several issues on the ballot state-wide, including the democratic presidential primary between Vermont Senator Bernie Sanders and former Vice President Joe Biden, a ten-year term on the state supreme court and a constitutional amendment proposal known commonly as Marcy's Law.
There are also several local issues, including a mayoral race in Mayville where two candidates are mounting write-in campaigns against incumbent Mayor Rob Boelk.
Jennifer Thoreseon and Tyler Winter-Vogley are both hoping to defeat the current mayor.
Thoreson's campaign Facebook page can be found here: https://www.facebook.com/groups/514124269501191/
Winter-Vogley's campaign Facebook page can be found here: https://www.facebook.com/TWVMayor/
To find out what's on the ballot near you, click here: https://myvote.wi.gov/en-us/PreviewMyBallot