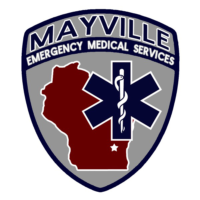 Mayville EMS is announcing a plan to have volunteer EMT's go on grocery runs for those who are not able to leave their homes.
The idea is to have EMT's go to homes, collect cash or check and then run to Mayville Piggly Wiggly.
Only essential items will be purchased, such as bread, milk, butter, meat and canned goods.
The goal is to help practice social distancing amid the spread of COVID-19 in Wisconsin.
Shopping will take place every day 10:00 a.m. – noon and 6:00 – 7:00 p.m.
All volunteers will have their temperatures checked before heading out and will wear a mask when making contact with people at their homes.
Those who wish to get on the list are asked to call Harland at 920-904-1997 or Cole at 920-219-0224.