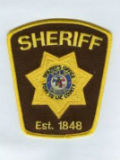 Nobody was injured when a car spun out on I-41 and crashed into a Fond du Lac County Sheriff's Deputy's squad car early Wednesday morning.
Sheriff Ryan Waldschmidt says it happened around 5:15 a.m. when a deputy was assisting a Wisconsin State Patrol Trooper at the scene of a different crash.
A driver coming upon the scene lost control and spun into the squad vehicle, despite Waldschmidt saying there was good visibility and plenty of time to slow down and move over.
Waldschmidt is now once again asking drivers to use extra caution and drive more attentively during snowy conditions.