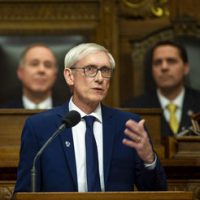 MADISON, Wis. (AP) — Wisconsin's Republican-controlled Senate on Monday was preparing the extraordinary step of rejecting a governor-appointed Cabinet secretary, the latest flash point in a series of ongoing tensions that began even before Democratic Gov. Tony Evers took office in January.
Senators have never rejected a governor's Cabinet appointee since at least before 1987, when the Legislative Reference Bureau began keeping records.
But Republicans are targeting Agriculture Secretary Brad Pfaff in part due to his push to enact tougher siting rules designed to protect farmers' neighbors from the stench of manure.
The push to fire Pfaff has encountered resistance from Democrats and some agriculture industry groups.
Evers appointed Pfaff in January, and he has been serving since then.
But if the Senate votes to reject his confirmation on Tuesday, he would be fired.
A law Republicans passed during a lame-duck session weeks before Evers took office forbids the governor from re-appointing Pfaff to the job later.
It was one of a series of laws passed in the lame-duck session to weaken Evers, a move that helped to sour their relationship early and has led to ongoing legal battles.
Evers' administration and farm groups were urging Republicans on Monday to back down, arguing it made no sense to oust the secretary in the middle of a dairy crisis and trade war.
But Republicans showed no signs of conceding.