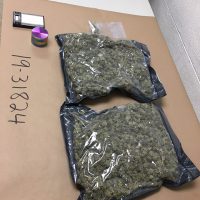 Two men are facing charges related to drug possession after an incident that started as a call for a disabled vehicle.
A Washington County Sheriff's Deputy was called to the scene on I-41 around 7:15 p.m. on Tuesday, September 3, 2019.
The two men were walking along the interstate and asked the deputy to call a tow truck for their vehicle which had broken down.
During the conversation, the deputy became suspicious and had a K9 unit inspect the vehicle.
The search turned up two pounds of marijuana and a scale, typically used for selling pot in smaller amounts.
The 31-year-old Clintonville man and 25-year-old Embarrass man were arrested and are facing charges of possession with intent to deliver.