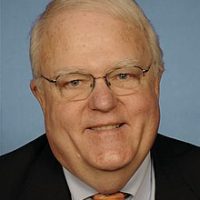 WASHINGTON (AP) — Veteran Wisconsin Republican Rep. Jim Sensenbrenner announced his retirement from Congress on Wednesday, making the former House Judiciary Committee chairman the 15th GOP lawmaker to say he will step aside before next year's elections.
Sensenbrenner, 76, was first elected in 1978 and is the second-longest serving current member of the House, trailing only Alaska Republican Don Young in seniority.
Sensenbrenner said in a statement that when he first began public service, "I said I would know when it was time to step back" and that he'd decided now was that time.
Two other House members also announced Wednesday they would not seek reelection next year: Bill Flores, R-Texas, and Susan
Davis, D-Calif.
The spate of House Republican retirements puts them ahead of their pace during the 2018 election cycle, when 34 did not run for re-election.
That was the party's highest number of retirements since at least 1930.
Sensenbrenner's district, which includes parts of Milwaukee's suburbs, is considered safe Republican terrain.
Even so, his departure adds to a parade of GOP lawmakers who will not be back, including at least four seats that Democrats have a legitimate shot at capturing, and will complicate Republican efforts to win back the chamber's majority .