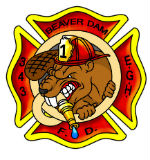 Nobody was injured or sickened when a Menards store in Beaver Dam was evacuated due to a gas leak.
Firefighters received a call just before 8:00 a.m. Tuesday reporting that a contractor had hit the gas main with a backhoe while working on building a new entrance to the lumber yard.
Alliant Energy was called to help the fire department in monitoring the air for explosive limits during the incident.
The leak was fixed and the store was reopened shortly thereafter.
The Beaver Dam Police Department also assisted in the incident.