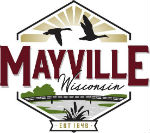 The city of Mayville is moving one step closer towards joining the Beaver Dam municipal court.
The city's common council adopted an ordinance to join the court, which already handles municipal ordinance or traffic violations for the city of Waupun, Village of Neosho and towns of Rubicon and Ashippun.
Each of those four plus the town of Beaver Dam will have to adopt their own ordinances for the move to become official.
Mayville officials believe the move will save citizens money on court costs, and will bring in an additional $5,000 in fees.
If all of the current municipalities in the Beaver Dam municipal court system approve the addition of Mayville, the move could take place by the end of the year.