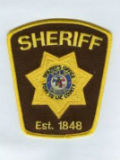 Six vehicles, including a semi, were involved in a crash that caused a shutdown of I-41 Soutbound in Fond du Lac over the weekend.
It happened Saturday afternoon when traffic was slowing down and moving into the left lane due to a crash on the right side of the road.
The semi wasn't able to slow down fast enough and slammed into the back of one vehicle, causing a chain-reaction crash.
The two people in that vehicle received serious injuries and are still recovering at a nearby hospital.
Everyone else involved received only minor injuries.
All lanes of I-41 south and one lane of I-41 north were shut down for several hours while crews worked to clear the scene.