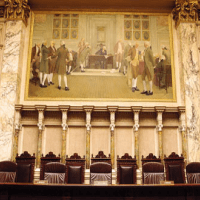 MADISON, Wis. (AP) — The Wisconsin Supreme Court on Tuesday reinstated most of the legislation passed by majority Republicans during a lame-duck legislative session aimed at capping the powers of their Democratic rivals.
The high court also blocked a trial that had been scheduled to start Wednesday on a lawsuit challenging one of the laws passed during the session, which came after a midterm election in which Republicans lost the governor and attorney general races.
Much of the lame-duck legislation has been blocked by lower-court judges.
One of those judges, Dane County Circuit Judge Frank Remington, had planned a two-day trial starting Wednesday over a new law requiring state agencies to redo how they publish what are known as guidance documents.
But the conservative-controlled Supreme Court blocked the trial and said it would take over the case.
The high court is already considering another lawsuit that challenged the entire lame-duck session on procedural grounds.
A federal judge is overseeing another challenge to the lame-duck laws.
The Wisconsin Supreme Court's rulings left only two provisions of the lame-duck laws on hold.
One would limit early voting and the other would limit the way the guidance documents could be written.
Senate Majority Leader Scott Fitzpatrick called the ruling "a win for the people of Wisconsin."