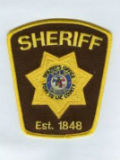 One person is dead and another seriously injured after a head-on crash in Fond du Lac County.
The Sheriff's Office says it happened Thursday, June 7, 21019 on Highway 175 north of County Highway Y in the Town of Byron.
An initial investigation shows a passenger car being driven by a 53-year-old Fond du Lac man was southbound on 175 when it crossed the center line and hit a pickup hauling a trailer.
The driver of the pickup, a 51-year-old Theresa man, was not wearing his seat-belt at the time of the crash.
He was flown from to an area hospital, while the driver of the passenger car was pronounced dead at the scene.
Alcohol is not believed to be a factor in the crash, which remains under investigation.