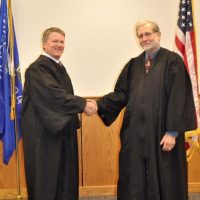 Dodge County Judge Brian A. Pfitzinger is being appointed to the position of presiding Judge in Dodge County.
District 3 Chief Jennifer Dorow announced the appointment on Tuesday.
Current presiding Judge Steven Bauer is stepping down from the role he's held for the last four years because he likely won't run for re-election, according to a press release.
The press release quoted Bauer as saying that he "enjoyed his time as a presiding Judge and particularly the many people that he has had the pleasure of working with and for."
Judge Pfitzinger said he was "honored" to have been appointed, and expressed gratitude towards Judge Bauer for the "amazing work he has done as presiding Judge for these last four years."
The move will take place on June 1st, 2019.