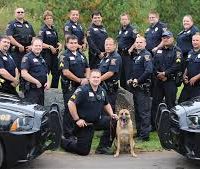 Local law enforcement officers are gathering at Hamilton Park Wednesday to remember officers who have given their lives to protect the community.
Fond du Lac Police Chief Bill Lamb says in the city's history, three Fond du Lac police officers have been killed in the line of duty.
Officer William Prinslow, in 1898, officer Nick Klaske in 1961 and officer Craig Birkholz in March 2011.
State trooper Trevor Casper was shot and killed in Fond du Lac on March 24, 2015 while attempting to apprehend a bank robbery and murder suspect.
"It can best be summarized by saying the incredible sacrifices. Those gentlemen were all shot and killed in our streets and so those are the ones that hit most close to home for us. But they are a small part of a grotesquely large number that is in excess of 21,000 law enforcement officers killed in the line of duty in our nation's history," Lamb said.
The Fond du lac Police Department will  be hosting a memorial ceremony Wednesday afternoon at the Police-Fire Memorial in Hamilton Park.