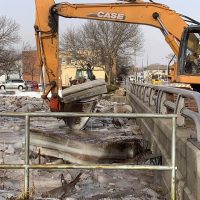 As many as 300 people are displaced in Fond du Lac as ice jams along the Fond du Lac River caused widespread flooding.
More than 100 apartment units were estimated to have been evacuated at 101 Western Avenue.
Fond du Lac city and county government officials say they are continuing to work around the clock in an effort to alleviate flooding along the Fond du Lac River and allow residents back into their homes as soon as possible.
Emergency management director Bobbie Hicken says residents should dial 2-1-1 for the latest information.
Hicken says residents will be allowed to return to their homes when it is safe.
Pete O'Leary says the city worked as quickly as it could to break up the ice to get the water flowing again.