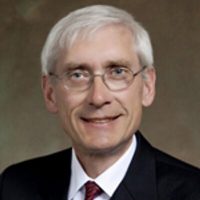 MADISON, Wis. (AP) – Gov. Tony Evers will call for allowing state environmental and agricultural officials to borrow nearly $70 million more over the next two years to combat water pollution and replace lead pipes in his first state budget, following through on his pledge to attack drinking water contamination during his first year in office.
Evers is expected to unveil the full two-year spending plan on Feb. 28 but gave The Associated Press a broad preview of his water quality initiatives. The governor called his plan an investment that will improve water quality across the state.
It's unclear how the proposals will go over with Republicans who control the Legislature. They've formed their own water pollution task force and are drafting their own bills to attack many of the same problems.
Still, Wisconsin League of Conservation Voters lobbyist Jennifer Giegerich called Evers' budget plans "a good first step to addressing our drinking water crisis."
"We are very supportive of increasing bonding for these programs," she said.
State agriculture officials would be allowed to borrow another $3 million over two years to fund grants to farmers for building infrastructure that reduces pollution from agriculture. The agency currently is allowed to borrow $7 million.
The Department of Natural Resources, meanwhile, would be allowed to bond for about $65 million more. The money would go toward grants for local governments to reduce pollution; cleaning up contaminated soil along the Milwaukee and St. Louis rivers; and loans to municipalities to cover half the cost of replacing lead pipes.
Evers also wants to spend an additional $300,000 on studies on water pollution management and implementing new manure-spreading restrictions the DNR enacted last year along Wisconsin's Lake Michigan shoreline, where porous Silurian bedrock allows contaminants to seep into groundwater more easily.
He wants to spend $1.46 million on other initiatives, including educating farmers, establishing a pollution best management practices website and developing software to help farmers use fertilizer.