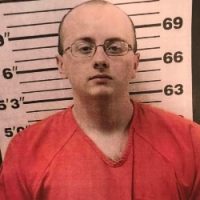 A suspect has been publicly identified in the case of missing 13-year-old Jayme Closs.
21-year-old Jake Thomas Patterson of Gordon, Wisconsin is currently being held in the Barron County Jail on two charges of 1st Degree Intentional Homicide and one count of Kidnapping.
Barron County Sheriff Chris Fitzgerald says Patterson was unknown to law enforcement and had no prior criminal history.
"We also do not believe at this time that the suspect had any contact with the family," Fitzgerald said.
"We do believe that Jayme was the only target."
Fitzgerald says Patterson "planned his actions, and took many proactive steps to hide his identity from law enforcement, and the general public."
Closs was discovered walking along a road in Gordon, Wisconsin on Thursday afternoon. Authorities say a woman walking her dog noticed her and helped get her to safety.
Douglas County Sheriff Tom Dalbec says Patterson was arrested thanks to a tip from Jayme herself.
"One of my patrol sergeants happened to find a vehicle that matched the description that Jayme gave my deputies of the suspect," Dalbec said.
Deputies were able to pull the vehicle over and safely bring Patterson into custody.
Fitzgerald called it "amazing" that Jayme was able to escape the home where she was being held captive and found help on her own.
"That is the will of a kid to survive. That's the unthinkable," Fitzgerald said.
Closs spent Thursday night in a hospital and was undergoing an evaluation on Friday, according to Fitzgerald.
"That includes medical and mental evaluations, questioning by detectives, FBI and DCI agents and then reunification with family."
Fitzgerald says he hoped to have Closs back in Barron County by Friday morning or early Friday afternoon.
Formal charges are expected to be filed against Patterson in Barron County within the next week.