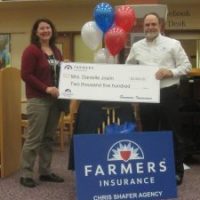 A Fond du Lac teacher is being recognized for her efforts to make a difference in the community.
Local insurance agent, Chris Shafer, surprised  Fond du Lac High School teacher Danielle Joslin Wednesday afternoon with a $2500 grant as part of the Farmer's Insurance Thank America's Teachers Program.
Joslin wrote in her application that nearly half of the Fond du Lac School District students live in poverty and are in need of warm winter clothing to
keep them comfortable so they can attend school and be successful in school.
"It's a difficult hurdle for everyone to get over because its just one more thing that students are dealing with on a daily basis and their families are dealing with," Joslin said.
"We've got a lot of hard working families in Fond du Lac , but they're struggling to make ends meet."
Joslin says she will use the grant money to purchase supplies to teach students how to knit hats and scarves during homeroom…one for themselves and one for a fellow student or adult in a homeless shelter.