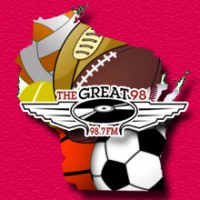 WIAA HIGH SCHOOL FOOTBALL
It's Week 5 of the high school football season! The Mayville Cardinals will hit the road for the second week in a row, this time headed northwest to take on the Laconia Spartans. Laconia has yet to win a game this year, coming off a loss to the Lomira Lions in Week 4. The Cards are looking for their second conference win after defeating Lomira earlier in the season.
Here's how the schedule looks across the Flyway Conference in Week 5:
Mayville @ Laconia – 7:00 p.m. kickoff at Laconia High School
Omro @ Lomira – 7:00 p.m. kickoff at Lomira High School
St. Mary's Springs @ Winnebago Lutheran Academy – 7:00 p.m kickoff at WLA High School
MILWAUKEE BREWERS
The Brewers didn't play on Thursday, but they still had a mixed bag of results when it comes to their playoff position.
Let's start with the Cubs, who beat the Washington Nationals 4-3 in a makeup game out in D.C. The game lasted ten innings, but the bad news for Chicago is that closer Pedro Strop injured his hamstring running to first after being left in the game to bat in the top of the 10th. Strop will likely miss the rest of the regular season.
Meanwhile, the St. Louis Cardinals lost at home to the Los Angeles Dodgers 9-7 on Thursday, complicating the NL Wild Card race just a bit more.
Here's how the NL Central standings look headed into Friday morning:
Chicago Cubs – 85 – 61 (.582)
Milwaukee Brewers – 84 – 63 (.571) 1.5 GB
St. Louis Cardinals – 81 – 66 (.551) 4.5 GB
Pittsburgh Pirates – 72 – 73 (.497) 12.5 GB
Cincinnati Reds – 63 – 84 (.429) 22.5 GB
And here's how the NL Wild Card race looks following the loss by the Cardinals:
Milwaukee Brewers – 84 – 63 (.571) +3.0
St. Louis Cardinals – 81 – 66 (.551)
Los Angeles Dodgers – 80 – 67 (.544) 1.0 GB
Arizona Diamondbacks – 77 – 70 (.524) 4.0 GB
Philadelphia Phillies – 74 – 71 (.510) 6.0 GB
The Brewers are at home against the Pittsburgh Pirates on Friday. Gio Gonzalez (8-11, 4.40 ERA) will get the start for the Brewers, while Chris Archer (4-7, 4.56 ERA) will get the nod for the Pirates. First pitch is set for 7:05 p.m. from Miller Park.
CLEMSON, S.C. (AP) — Former Major League pitcher Billy O'Dell has died at 85 years old. O'Dell played at Clemson and went on to a 13-year big league career with Baltimore, San Francisco, Milwaukee and Pittsburgh. O'Dell was an All-Star in 1958 and 1959. Clemson officials announced his death Thursday after speaking with family members. The Whitaker Funeral Home in Newberry says O'Dell died Wednesday but did not announce a cause of death.
GREEN BAY PACKERS
GREEN BAY, Wis. (AP) — The Minnesota Vikings are preparing for all scenarios for Sunday's game against the Green Bay Packers and injured quarterback Aaron Rodgers. The two-time NFL MVP was held out of practice at midweek to focus on rehabbing what he says is a sprained left knee. He might be more limited in the pocket than usual. It still didn't stop Rodgers from helping the Packers beat the Bears last week. The Vikings say they think Rodgers is playing and will be ready for anything.
MILWAUKEE BUCKS
MILWAUKEE (AP) — A Milwaukee police officer involved in the stun gun arrest of Bucks' player Sterling Brown has been fired because of social media posts mocking Brown. Police Chief Alfonso Morales disclosed the firing Thursday and identified the officer as Erik Andrade. Brown sued the police department in June and accused officers of using excessive force and targeting him because he's black. Andrade mocked Brown on Facebook for his Jan. 26 arrest stemming from a parking violation.
MILWAUKEE (AP) — Dozens of Habitat for Humanity volunteers and workers have started the mammoth task of demolishing the Milwaukee Bucks' former arena. The Bradley Center, which is next door to the new Fiserv Forum, is being deconstructed one locker and luxury suite at a time. The crews are saving furniture, equipment, fixtures and other items to be resold at Milwaukee County Habitat Re-Store shops.
NATIONAL FOOTBALL LEAGUE RESULTS
| | | | | |
| --- | --- | --- | --- | --- |
| Final | Cincinnati | 34 | Baltimore | 23 |
MAJOR LEAGUE BASEBALL RESULTS
AMERICAN LEAGUE
Final
Baltimore
5
Oakland
3
Final
Boston
4
Toronto
3
Final
Kansas City
6
Minnesota
4
Final
Seattle
8
L-A Angels
2
———
NATIONAL LEAGUE
Final
N-Y Mets
4
Miami
3
Final
Colorado
10
Arizona
3
Final
Chi Cubs
4
Washington
3, 10 Innings
Final
N-Y Mets
5
Miami
2
Final
L-A Dodgers
9
St. Louis
7