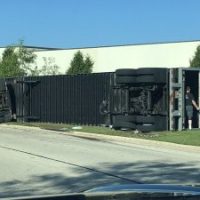 A semi driver was transported to the hospital with non life-threatening injuries after his truck rolled over in a Fond du Lac industrial park.
Fire chief Pete O'Leary says the accident happened Thursday in the 100 block of West Larsen Drive.
"It's a fully loaded 55-foot trailer with motors for Mercury Marine," O'Leary said.
"It (truck) did take out a city traffic signal, a fire hydrant and city tree on the terrace."