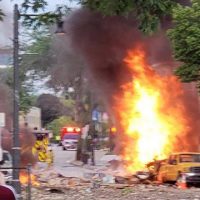 Officials in Sun Prairie are allowing several residents to return home following a massive explosion that killed one firefighter and injured several others last night.
Over one hundred people within a half mile radius were forced to leave their homes last night, many of them having to stay at a temporary shelter opened at Slinger High School.
Meanwhile, the firefighter killed has been identified by family and friends as Captain Cory Barr.
Barr was not only the captain of the volunteer Sun Prairie Fire Department, but was also the other of the Barr House, which was leveled in the explosion.
The cause of the blast was a gas main leak caused by a contractor drilling into it accidentally.