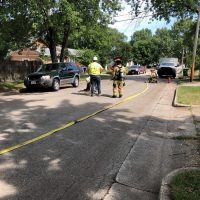 An evacuation placed around 10:00 am Wednesday in Fond du Lac following a gas line break has officially been lifted.
The Fond du Lac Fire and Rescue team responded to a report of a natural gas line hit by a contractor in the 400 block of Star Street around 10:00 am Wednesday.
One home was initially evacuated but that evacuation radius was expanded to include 16 to 20 homes between 6th Street and 8th Street.
Alliant Energy also reportedly to the scene to mitigate the leak and check gas readings in the sewer lines.
Nobody was injured during the incident.