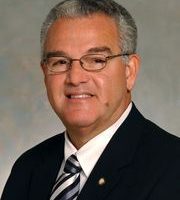 Former UW Oshkosh Chancellor Richard Wells and his former Vice Chancellor are both facing felony charges related to an ongoing financial scandal involving several building projects approved during their tenure.
Wells and Tom Sonnleitner were charged Thursday with FIVE felony counts each of Misconduct in Office.
Investigators say the pair approved numerous projects to erect new or update old buildings on campus.
The projects were supposed to be paid for by the private UW Oshkosh foundation, but detectives found the projects were actually funded through taxpayer money.
The pair is also accused of sending letters to area banks, assuring them that the public university would step in and help if the private foundation was unable to make payments.
That private foundation is now bankrupt.
Wells is set to make his initial appearance in court June 11th.