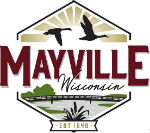 The City of Mayville officially has a new logo!
The design was created by resident Jennifer Sterr, and unveiled at Monday night's common council meeting.
Sterr writes that her design features the bridge by the Mayville Park Pavilion not only because it is a recognizable structure, but because it also "represents progress connections and stability."
Jennifer's full statement submitted with the logo reads:
"The logo I've created helps express what Mayville represents, a historic but progressive city by the Rock River that maintains its friendly small town feel. The main font of the "Mayville" logo was picked due to it's strong but friendly feel as well as a modern but timeless look to it. The colors were inspired by the city's existing website which all have earthy and rich qualities. I've chosen the bridge by the Mayville Park Pavilion as part of the artwork not only because it's a recognizable structure but also because it represents progress, connections, and stability. The pair of flying geese and cattails also represent the natural beauty that surrounds Mayville as well as the communal aspect of the city."
As winner of the logo contest, Jennifer will be awarded $250 and a key to the city.