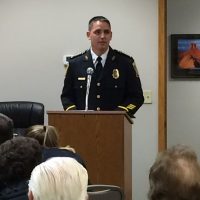 The City of Mayville is disallowing a claim filed against it by Chief of Police Ryan Vossekuil.
The city's Common Council discussed the claim in closed session at last night's meeting, and out of closed session it unanimously passed a motion to disallow.
Before the meeting, Mayville's mayor Rob Boelk called the claim "baseless."
An attorney for Vossekuil says the claim has merit, claiming the city owes Vossekuil 50-thousand dollars, plus additional money to cover attorney's fees and a public retraction from Boelk.
The Mayor and Chief have gone toe-to-toe in the past, including in July of last year, when Vossekuil was issued a written reprimand for speaking to the media.