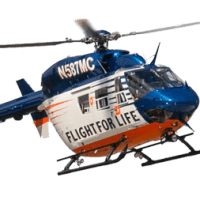 One person is in serious condition after a major accident along Highway 41 near Theresa around 5:00 pm Wednesday evening.
An initial investigation by the Dodge County Sheriff's Office shows a vehicle was traveling northbound on 41 when it abruptly moved into the left lane and slammed onto the brakes while approaching a U-turn area for law enforcement vehicles.
A pickup truck also traveling northbound in the left land crashed into the back of the first vehicle, sending it flying into oncoming traffic in the southbound lanes of 41.
The vehicle was immediately hit by a straight truck, and the passenger had to be flown from the scene and taken to an area hospital for treatment of life-threatening injuries.
The drivers of the other two vehicles were uninjured. Due to the seriousness of the accident and injuries sustained, all lanes of I-41 Southbound were closed for nearly 3 hours last night, but reopened just before 8 o'clock p.m.
The identities of those involved have not yet been released.