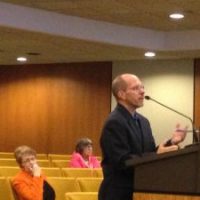 The Fond du Lac city council has given the okay to allow Pick n Save grocery store to sell alcohol online for outside pick-up.
The council voted 4-3 at their meeting Wednesday night to allow customers to pick up their alcohol outside the store after making the online purchase.
Council members Greg Giles, Brian Kolstad and Kay Miller voted against.
ClickList program customers can shop for groceries and alcohol online for pick-up in designated parking stalls.
Council president Karen Merkel serves on the city's alcohol licensing committee.
"They're (Pick n Save) process is much like what happens inside their store, Merkel said.
"The person who delivers the alcohol is a licensed bartender, they check their ID."
Giles says its a slippery slope.
"I don't have a concern with Pick n Save's integrity but as soon as we open up that conversation then its open and available to a lot of other organizations to follow it. It's just going to be a lot harder to police," Giles said.
Fond du Lac police were opposed citing concerns about an increased chance of alcohol sales to underage persons.
Merkel says while she understands the concerns she notes that Pick n Save has reported no problems in other communities where the service is already in place.
Merkel says there are a lot of safeguards built into the program to prevent alcohol sales to underage persons.