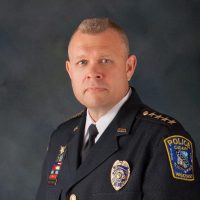 Written by: Alexander Crowe
News Director at 98.7 WMDC-FM The Great 98 in Mayville, WI
An attorney for current Cudahy Police Chief Tom Poellet denies her client ever asked anyone to alter a police report involving a family member of his.
That directly contradicts a memo, written in 2011 by then-Mayville Police Chief William Linzenmeyer, and submitted to Wisconsin Department of Justice Division of Criminal Investigation special agents in 2016.
Parts of that memo were included in the criminal complaint filed against former Mayville Police Chief Christopher MacNeill, as part of a felony Misconduct in Office and misdemeanor Obstructing an Officer charges brought against him. You can catch up on the timeline of events laid out in the complaint by clicking here.
In the 2011 memo, Linzenmeyer wrote that on January 14th, 2011, Poellet came to the Mayville Police Department and was "very distraught and upset about this issue with his [family member]."
Linzenmeyer says he provided Poellet with a copy of the six-page report.
The memo goes on to say that the following day, on Saturday, January 15th, 2011, while at home, Tom Poellet called Linzenmeyer "expressing concern about the narrative portion of the report and asking that some statements from the report be removed from the report as they were unnecessary and would have a negative impact on his [family member]."
Finally, Linzenmeyer's memo claims Poellet stated that he would be seeing then-Officer Christpoher MacNeill later that day, and that "Chris could take the information off the report."
Those claims were directly and repeatedly refuted by an attorney for Chief Poellet.
In an interview with the Great 98, attorney Andrea Hoeschen says her client never asked anyone to alter any documents, insinuating that if MacNeill did alter the documents in question, he was acting on his own.
"[Poellet] can't speak on behalf of Chris MacNeill," Hoeschen said. "He did not change any police records, and he did not ask for any records to be changed in this incident."
When pressed on whether or not Chief Poellet has ever asked any police official to alter or change any official police document, Hoeschen repeated the claim.
"In regards to this incident that's under investigation by the DOJ, Tom Poellet never made any request for any records to be changed," she said.
When asked whether or not Chief Poellet feels it is ever appropriate to ask another officer to change an official police document, Hoeschen replied "I don't know, I haven't asked him that."
Tom Poellet and William Linzenmeyer are not under investigation, according to the Wisconsin Department of Justice, and Poellet was not interviewed by Division of Criminal Investigation special agents, according to Hoeschen.
When asked if Poellet should remain on as the Chief of Cudahy Police, Mayville Mayor Rob Boelk said he had no comment, but also stated that,
"Obviously the city of Mayville is disappointed in Mr. MacNeill's actions, but in my opinion, all officers need to have high integrity, and once you violate that trust with the public, you should no longer be in office."
Tom Poellet continues to serve in his role as Chief of the Cudahy Police Department.
The 13-page criminal complaint filed against MacNeill in Dodge County Court and written by DCI Special Agent Raymond Gibbs, is a public document.
You can view the complaint in its entirety by clicking here.