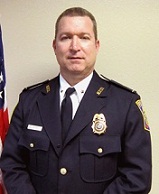 Former Mayville Chief of Police Christopher MacNeill repeatedly asked his then-boss to alter official police records multiple times in 2011, according to a criminal complaint filed by the Department of Justice – Division of Criminal Investigation.
In the complaint, Special Agent Raymond Gibbs paints a clear picture of abuse of power, cover-up attempts and lying by the former Chief of Police.
The following timeline of events was laid out in the criminal complaint, filed on June 15th, 2017.
It all started on January 11, 2011, when the son of former Mayville Police Officer and current Cudahy Police Chief Tom Poellet was seen by classmates at Mayville High School injesting a pill, giving one to a friend and telling him to take it as well.
Two days later, on January 13th, current Mayville police officer Tony Trunkel was dispatched to the school to investigate. He received witness statements from three students, who acknowledged they not only witnessed the two taking the pills, but that they overheard they discussing that it was Vicodon, and which ways were best to ingest it.
Officer Trunkel wrote a report on the incident, labeling it as a "drug investigation," and labeled both students who had taken the pills as "suspects."
During the investigation, Poellet allegedly called the school, saying he wanted to "invoke his constitutional right" for his son not to talk to authorities.
The other boy did talk to Officer Trunkel, and he allegedly admitted to taking Vicodin, stating he had memorized the labeling on the pill.
The following day, January 14th, 2011, a teacher told Officer Trunkel that Poellet's son had claimed the pill he gave another student was a Zyrtec. Officer Trunkel submitted his completed report that same day.
A few days later, then-Chief William Linzenmeyer asked then-secretary Marjean Sertich to type a memo which included documents pertaining to the incident as well as the official report written by Trunkel.
The next day, on January 14th, 2011, Poellet came to the Mayville Police Department "very distraught and upset," according to Linzenmeyer. He requested a copy of the report, which Linzenmeyer gave to him.
One day later, on the 15th of January 2011, Linzenmeyer says he got a call from Poellet, expressing concern over the report and asking Linzenmeyer to make changes to it. Linzenmeyer declined, and later got a second call from Poellet saying MacNeill would change it for him.
Linzenmeyer says he again declined, saying "He is to pass the report on to me, and I will review it when I come in on Monday."
Linzenmeyer says the following day, he got a call from MacNeill saying, "I'm going in tonight at 10:00 p.m., and I will take the items out of the report." Linzenmeyer says he told MacNeill not to go in, and not to alter the report.
He says the following day, there had still not been any changes made to the report.
In June of 2011, Linzenmeyer retired as Chief of Police in Mayville, and MacNeill took over. Before leaving office, Linzenmeyer says he asked Sertich to keep an eye on the report written by Trunkel, because he was worried MacNeill would try to alter it.
Sertich says she complied, making a hard copy of the report and keeping it to herself.
By October 26th, 2011, the report had been changed.
Sertich says the report had shown it was last edited on August 7, 2011 by a badge number belonging to none other than Christopher MacNeill.
She says she did not file an open records request, out of fear for her job security, but she looked at the report on the master file and observed multiple changes, most notably that witness statements had been removed, the boys were no longer listed as "suspects" and the title had been changed from "drug investigation" to "school medication violation."
Sertich says she alerted former Chief Linzenmeyer in October of 2011 that the report had been altered.
Fast forward to September of 2016, when a retired Linzenmeyer and off-duty Trunkel met and were discussing problems withing the Mayville Police Department when Linzenmeyer brought up the allegedly-altered documents.
Shortly thereafter, a private attorney contacted the Division of Criminal Investigation, saying two individuals wanted to make a complaint against MacNeill in his capacity as police chief in Mayville.
In his subsequent interview with DOJ- DCI investigators, Trunkel allegedly read the changed report, and pointed out the differences between his and the one on file. He told investigators he became nervous when he saw the report had changed, but his name was still attached to it.
When investigators came to meet with Linzenmeyer, he told them he took a hard copy of the original 2011 report with him when he retired, because "In approximately 30 years in law enforcement, he had never been asked by anyone to alter a report."
Linzenmeyer gave his copy to investigators, and told them he became aware the document was altered in October of 2011 after he retired.
On February 6th, 2017, investigators came to the Mayville Police Department to meet with MacNeill.
According to the criminal complaint, MacNeill allegedly admitted to officers that he changed the title of the investigation, and seemed unapologetic, saying the boy who had the pills was attempting to get into the military, and wouldn't be able to do so with a drug charge on his record.
MacNeill told investigators he did not recall making changes to the extent he observed in the report, including the removing of witness names and statements, replacing the word "suspect" with "warned" and even changing the word "Vicodin," to "Zyrtec."
Shortly thereafter, a search warrant was executed on the City of Mayville by the Department of Justice – Division of Criminal Investigation.
Within three days, Mayor Rob Boelk placed MacNeill on paid administrative leave.
The following month, in March of 2017, MacNeill submitted his resignation to the common council, which they accepted. Ryan Vossekuil was named as Captain and interim Chief.
On June 15th, 2017, Assistant Attorney General and Special Prosecutor for Dodge County Shelly J. Rush signed a court summons for MacNeill, on the charges of Misconduct in Office and Obstructing an Officer.
Misconduct in Office is a Class I felony, punishable by up to three and a half years in prison and a $10,000 fine.
Obstructing an Officer is a Class A misdemeanor, punishable by up to nine months in prison and a $10,000 fine.
No other persons have been charged.
Tom Poellet is still serving in his post as Chief of Cudahy Police.
MacNeill's initial appearance in Dodge County Court is set for Monday, June 26th at 9:00 a.m.
Requests for comment were left with the offices of the Mayville Police Department, the office of Tom Poellet in Cudahy and the office of Mayor Rob Boelk in Mayville.
None of them had responded by the time of this writing.